Improve Your Health and Quality of Life
Physical Therapy & Corrective Exercises
Chronic pain and movement limitation mean you enjoy your life less. I will help you learn to work with your body to restore mobility through individualized, custom designed exercises.
We will create an exercise and fitness plan that works with your lifestyle, personal needs and limitations. Customized to help you realize your unique personal and functional fitness goals.
Nutrition & Functional Medicine Coaching
I use a Health risk assessment and look closely at your health timeline so we can have an honest discussion of your struggles & health challenges.
You have already discovered that diets don't work. Following a thorough assessment, we develop a medically sound, unique, nutritional plan to support you in achieving improved health and optimal weight.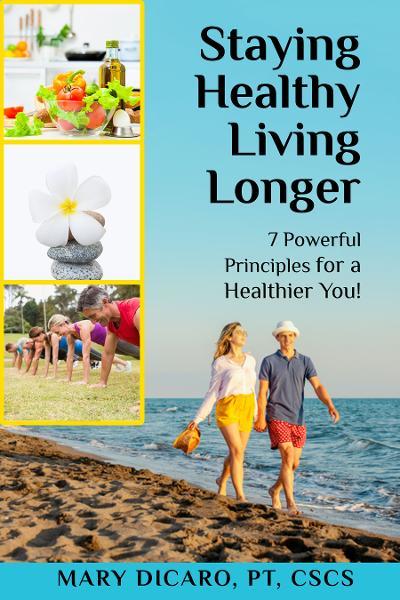 Transform your health using evidence-based strategies of exercise, diet, and mind-body medicine!
In my book, Staying Healthy, Living Longer- 7 Powerful Principles for a Healthier You!, you will learn valuable tools for reducing pain, losing weight, controlling your blood sugar, and reducing inflammation, which is the root cause of dis-ease.
Pre-order today and receive a free 30-minute Physical Therapy or Wellness Consult with me! Simply, ORDER BEFORE March 31st and email a copy of your receipt or a picture of the physical book once received. Start your health improvement journey TODAY!


I believe every person is unique and requires a plan of care that is also unique. It is my philosophy that there is no one nutritional approach or diet that works for all and similarly, the role of physical exercise and the mind-body connection is also unique for each person. I only recommend supplementation that I feel the body needs for healing and only products that are third-party tested and comply with the highest industry standards.
Upcoming Live Seminars in Arizona!
Attend: "Healthy Aging: Building a Body that Resists Disease!".
Where: Sun City Grand Learning, Surprise, Az.
When: March 11, 2022, Time: 11:30-1:30 pm
How: Register at grandlearning.org
Or (623) 546-7470
You can view and purchase supplements HERE and receive a discount through this site.
The information contained on this site is not a substitute for your doctor's medical care and advice.
**The information on this website is not intended as a substitute for Medical advice. Supplements unless, considered "medical foods," have not been evaluated by the FDA and are not intended to diagnose, treat, cure or prevent disease. Information provided is to serve only as a helpful resource and it is recommended that you consult with your doctor before initiating any new treatment or exercise program.